The CL extruder shown on these pages is of simple, strong design which, besides easy, troublefree operation, also provides for turning out a wide range of different puffed products.
It can process lots of different raw materials, either singly or mixed, including maize grits, broken rice, wheat semolina, whole wheat bran etc.

The core of the machine is the head which comprises cylinder, extrusion screw and die. The CL75 and CL90 model is fitted with two interchangeable heads, one long and one short.
Which one is used depends on product and what type of raw material is being
processed.

In order to grant a high degree of versatility, the extruder screw can be driven by a suitable AC. motor or on request by a D.C. motor at variable speed.

Besides individual extruders, we con also supply whole processing
lines from raw material infeed to finished product.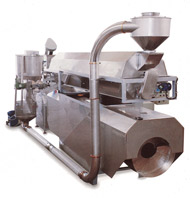 Obtained product

Info
The illustration shows a line for making flavoured corn curls
consisting of: a raw material binlmixer with an extruder supply
screw, a CLI90 extruder, a pneumatic conveyor, a gas-heated rotary drier and a rotary flavouring drum complete whit a
flavouring supply tank

Utility

Site optimized for: